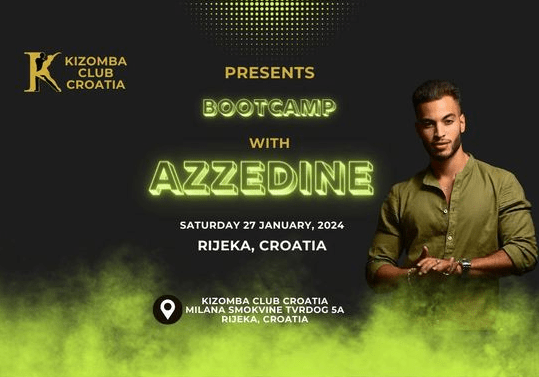 BOOTCAMP with AZZEDINE
Event by Kizomba Club Croatia
Kizomba Club Croatia
Duration: 14 hr
Public · Anyone on or off Facebook
𝔹𝕆𝕆𝕋ℂ𝔸𝕄ℙ 𝕨𝕚𝕥𝕙 𝔸ℤℤ𝔼𝔻𝕀ℕ𝔼
🇬🇧💫From next year we will continue with our monthly workshops and bootcamps with most amazing international teachers.
In our new school place, in January we will host one of the best teachers in Kizomba world – AZZEDINE!🔥
💫Join us in 3 hours intensive (intermediate/advance) Urbankiz bootcamp on Saturday, January 27th, and party! Space on the bootcamp is limited. We will keep ballance with leaders, followers and level of dancers.
💫Sunday, Jan 28th will be reserved for private classes with Azzedine or Kizomba Club Croatia teachers Geri & Magdi and Vlado&Larisa.
💫𝕊ℂℍ𝔼𝔻𝕌𝕃𝔼:
Saturday: 🕒15:00-18:00 Bootcamp (with 15min break from 16:30-16:45)
🕚 23:00- 05:00 Party
Sunday: Private classes (not included in the pass price)
(reservations and info on +385977374799 (whatsapp,viber), or email:
info@kizombaclubcroatia.hr)
📍𝕃𝕆ℂ𝔸𝕋𝕀𝕆ℕ:
Kizomba Club Croatia, Milana Smokvine Tvrdog 5A, Rijeka, Croatia
💶𝔼𝕍𝔼ℕ𝕋 ℙℝ𝕀ℂ𝔼:
-45€ (Includes: bootcamp, party, light snacks and refreshments)
-40€ (For Kizomba Club Croatia members)
-15€ (Party only, with light snack and refreshments included)
📩ℝ𝔼𝔾𝕀𝕊𝕋ℝ𝔸𝕋𝕀𝕆ℕ and payments are mandatory through google form until January 15th, 2024. After the registration we will send you payment form. Payments will not be accepted at the door.
https://forms.gle/GebMQ2CnFm7UsM6o9
➡After the payment your place on the event is reserved. We will keep balance of leaders and followers at the bootcamp and party. Reserve your spot on the time.
🇭🇷💫Od sljedeće godine nastavit ćemo s našim mjesečnim radionicama i bootcampom s najboljim internacionalnim instruktorima.
U našim novim prostorima cluba, u siječnju ćemo ugostiti jednog od najboljih učitelja kizombe u svijetu – AZZEDINA!
💫Pridružite nam se u 3-satnom intenzivnom (srednjem/naprednom) Urbankiz bootcampu u Subotu, 27. siječnja, 2024 Broj mjesta na bootcampu je ograničen. Kao i uvijek pazit ćemo na balans leadera followera i razinu plesača, kako bi radionice bile što uspješnije za svakog polaznika.
💫Nedjelja, 28. siječnja bit će rezervirana za privatne satove s Azzedinom ili Kizomba Club Croatia instruktorima Geri & Magdi i Vlado&Larisa.
💫𝕊ℂℍ𝔼𝔻𝕌𝕃𝔼:
Subota: 🕒15:00-18:00 Bootcamp (sa 15min pauze od 16:30-16:45)
🕚23:00- 05:00 Party
Nedjelja: privatni sati (nije uključeno u cijenu karte)
(rezervacije i info na +385977374799 (whatsapp,viber) ili na email: info@kizombaclubcroatia.hr)
📍𝕃𝕆ℂ𝔸𝕋𝕀𝕆ℕ ( bootcamp i party):
Kizomba Club Croatia, Milana Smokvine Tvrdog 5A, Rijeka, Croatia
💶𝔼𝕍𝔼ℕ𝕋 ℙℝ𝕀ℂ𝔼:
-45€ (Uključuje: bootcamp, party, snacks i osvježenje)
-40€ (Za članove Kizomba Cluba Hrvatska)
-15€ (samo party s uključenim snacks i osvježenjem)
📩ℝ𝔼𝔾𝕀𝕊𝕋ℝ𝔸𝕋𝕀𝕆ℕ i uplate su obavezne putem google forma do 15. siječnja 2024. Nakon registracije proslijedit ćemo vam podatke za uplatu. Plaćanje na ulazu neće biti u mogućnosti.
https://forms.gle/GebMQ2CnFm7UsM6o9
➡Nakon uplate vaše mjesto na bootcampu je rezervirano. Rezervirajte svoje mjesto na vrijeme.
45 €