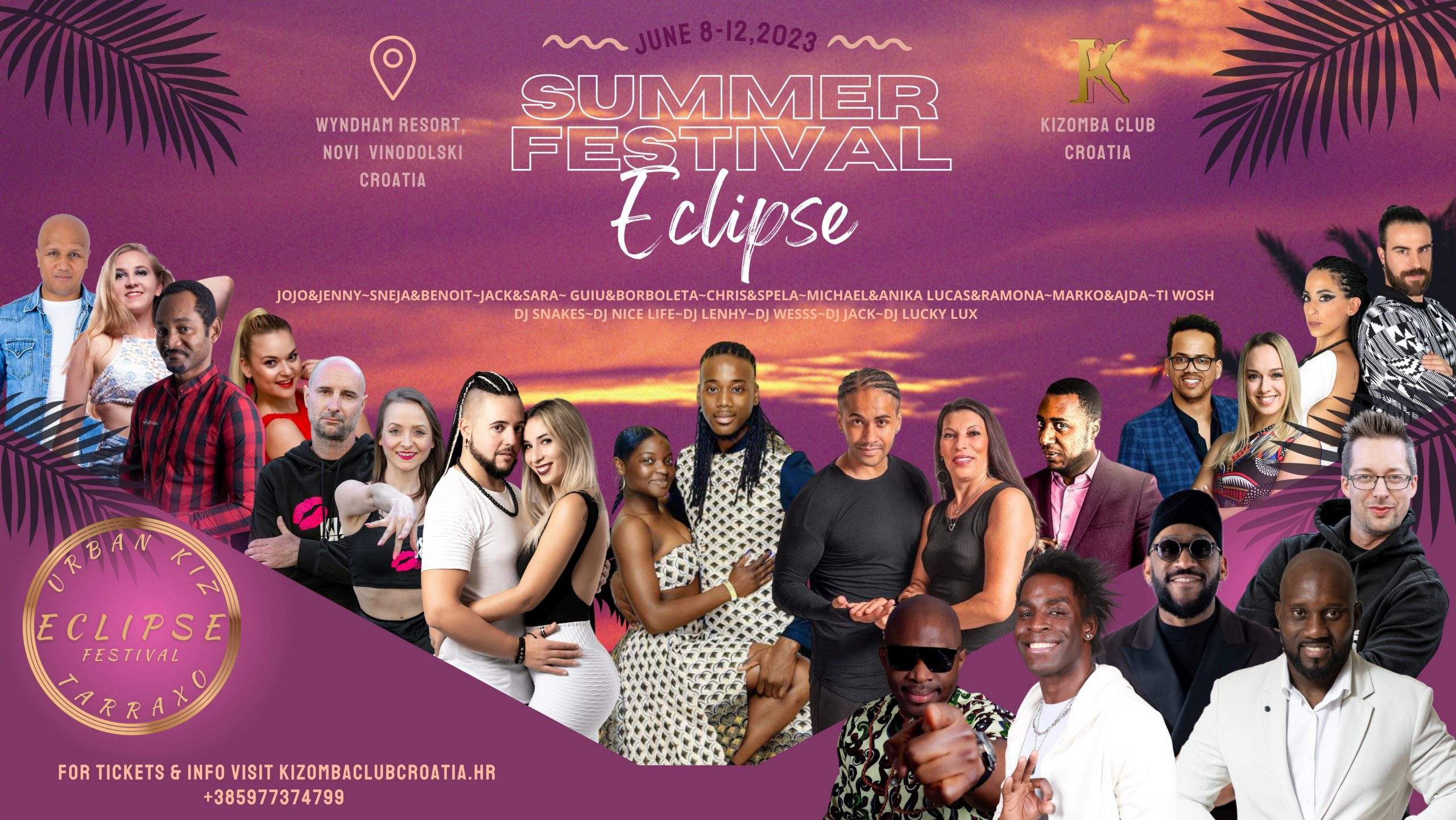 ECLIPSE FESTIVAL 08.-12.06.2023
Welcome to our first Tarraxo/Urban Kiz festival in the beautiful coastline of Croatia with top urban kiz and tarraxo international Artist's and Dj's in 5 star "All in one venue" and get ready for your dance summer vacation!
DJ's LINE UP
DJ Snakes
DJ Nice Life
DJ Lenhy
DJ Wesss
DJ Jack
DJ Lucky Lux
ARTIST'S LINE UP
Jojo &
Jenny (Let's Play Kizomba)
Sneja &
Benoit (Urban Kiz)
Jack &
Sara (Tarraxo Softness)
Guiu &
Borboleta (Tarraxo)
Chris &
Spela (Urban Kiz)
Michael &
Anika (Tarraxo)
Lucas &
Ramona (Urban Kiz)
Marko &
Ajda (Urban Kiz)
Ti Wosh (Urban Kiz Douceur)
TAXI DANCERS TEAMS:
LPK TEAM
KIZZ RYDERS
ALFA PACK TEAM
UNIT'KIZ
The total number of taxi dancers will proportionately depend on the total number of the festival participants.
OFFICIAL VIDEOGRAPHER
: Zatie's Art
OFFICIAL PHOTOGRAPHER
: negotiating…
OFFICIAL PHOTOGRAPHER
: negotiating…
PASS INFO:
ONLY FULL PASS IS AVAILABLE!
FROM 28.09.2022 UNTIL 31.10.2022 – 70€
FROM 01.11.2022 UNTIL 31.12.2022 – 80€
FROM 01.01.2023 UNTIL 28.02.2023 – 90€
FROM 01.03.2023 UNTIL 30.04.2023 – 100€
FROM 01.05.2023 UNTIL 07.06.2023 – 110€
FROM 08.06.2023 UNTIL 11.06.2023 – 130€ (AT THE DOOR)
PASSES AVAILABLE AT:
https://www.dizizid.com/events-registration/index.html…
WHAT TO EXPECT IN A DAILY ROUTINE
:

Workshops (one at the time)

Indoor social's or Outdoor Pool social's

Sauna social's …just kidding
Beach social's (shaded with shade sails and non shaded area) – Snacks and cold fruits for refreshments will be available.

Surprise event on Friday, Saturday and Sunday evening's!

Party time until the sun comes out!
Hotel booking reservations:
KCCECLIPSE

ALL IN ONE SEASIDE 5 STAR SPA RESORT VENUE! -50 meters away from the beach front!
The workshop's / social's / party's room is equipped with the superior humidity control and air conditioning system.
Hotel room's and Villa's apartment's accommodating from 1-6 beds.
OUTSIDE RESORT ACOMMODATION:
In case you would like to rent an apartment in nearby city of Novi Vinodolski (3,3 km away) the shuttle's will be available throughout the entire festival time.
ECLIPSE Summer Festival – Urban Kizz & Tarraxo (official) , what to say…we are still putting our minds, thoughts and soul together. We can't thank enough to all of you who participated in this extraordinary event, from teachers, dj's, dancers, photo and video crew to our team who worked hard this past weekend to make our 1st edition of Eclipse so perfect! Tears of joy! Our hearts are full!❤️ Love you all!🫶
See you on the dance floor!💃🕺
Kizomba Club Croatia team🥰
70€-130€