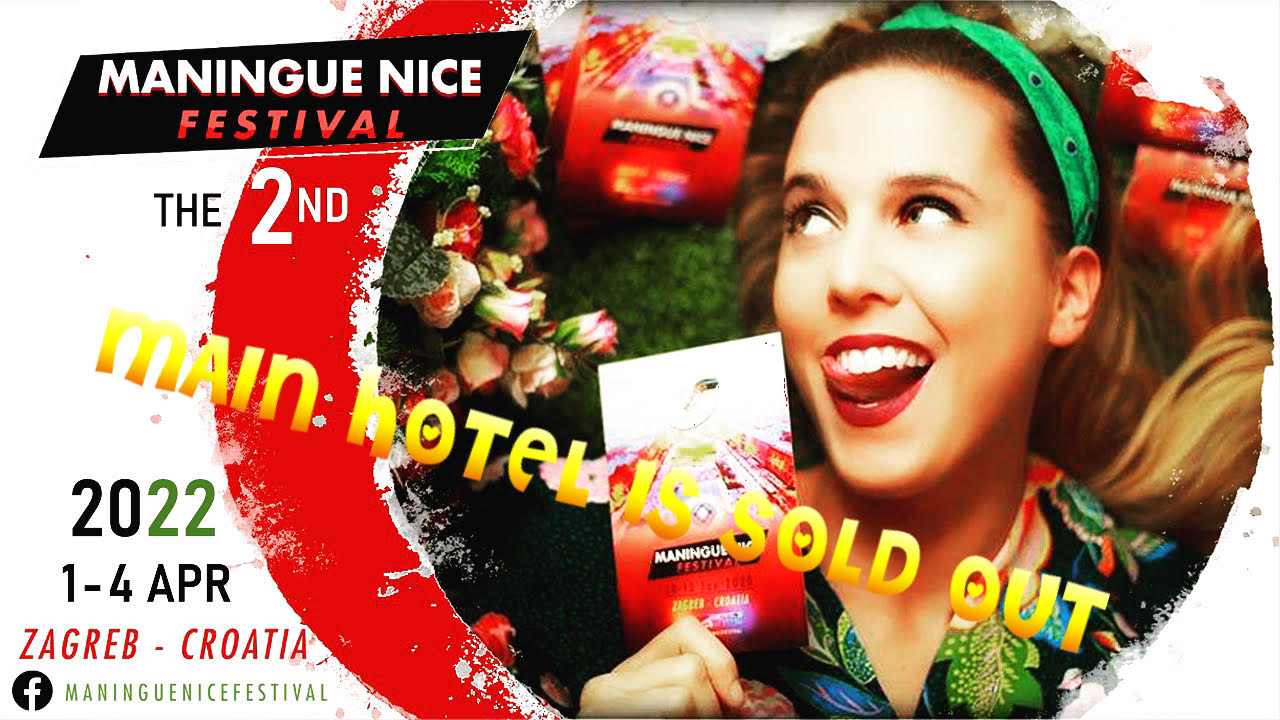 Maningue Nice Festival – 2nd Edition
www.dizizid.com/events-registration/index.html
Public

 

Anyone on or off Facebook
MANINGUE NICE FESTIVAL – 2nd Edition
ALL IN ONE EVENT
2 PARTY ROOMS
Room 1 – Kizomba / Semba / Afro
Room 2 – Urban Kiz
2 WORKSHOP ROOMS
DAYTIME SOCIAL DANCE
2 SPECIAL AFROHOUSE & KUDURO CLASSES (Advance Level only)
2 KOMPA MASTERCLASSES (All Levels)
We will PARTY HARD all day and night! With workshops and social dancing during the day, there will be no time for you to sleep! And there will be no reason for you to sleep, so get ready to enjoy and dance, and taste the spice of Maningue Nice
LINE UP
Dj Carlos King
Dj Paparazzi
Dj Dos Anjos
Dj Morelasoul
Dj Igor
Dj Brane
Dj Hugo Boss
Dj Lucky Lux
Dwe & Gaby
Tony & Carla
Paulo & Lanna
Ajda & Titi
Rokhaya
Anja EAK
Marcio Junqueira
Rico Suave
Jadilson
Evaldo Ceita
Ana & Stephane
FARANTINI PHOTOGRAPHY
VENUE: HOTEL ACADEMIA ★★★★
The four-star Hotel Academia is located in the very centre of Zagreb, at Tkalčićeva Street 88. It is ideally situated for all guests who value being in proximity to the historic city centre, with the opportunity for sightseeing without the need for additional transportation.
The hotel includes a bistro restaurant "St. Michael", and shops. Guests will also have at their disposal a two-story underground garage with 170 parking spaces, a commodity rarely available in hotels in the centre of Zagreb. The hotel is also easily accessible by bus, enabling easy and convenient transfer for hotel guests.
FREE PARKING IS ONLY FOR HOTEL GUESTS
If you're NOT staying at the hotel you have to Pay for parking
BOOK YOUR ROOM AT:
maninguenicefestival@gmail.com
PRICES:
FULL PASS
€75 UNTIL 31 January
€80 UNTIL 14 February
€85 UNTIL 28 February
€95 until 1st April
We will Not sell party passes. Find one of our promoters and get Good discounts
Online Ticket link:
https://www.dizizid.com/events-registration/index.html…
P.S. – ONLINE SALES STOP ON THE 30th March
Find our promoters and Get Discounts
IMPORTANT NOTE
ALL PASSES WILL BE REFUNDED IF COVID RESTRICTIONS DO NOT PERMIT THE FESTIVAL HAPPENING
In normal circumstances passes are Non refundable but the name can be changed for Free till 7 days before the festival and for €10 after
PROGRAM
– Friday
Workshops
Daytime Social Dance
Night Party (2 rooms)
– Saturday
Workshops
Daytime Social Dance
Night Party (2 rooms)
– Sunday
Workshops
Daytime Social Dance
Night Party (1 room)
KCC IS HERE NOW!